Check Operating System Bit Information
Windows operating system is quite popular in India and when you have to install any software you need to check device specific information to check whether your computer support these software or not. Checking Operating System Information like windows edition, service pack, 32 or 64 bit system etc. is very simple, follow given steps and check your windows operating system (OS) easily.
Whenever you have to download any software from the internet you have to download the 32 bit or 64 bit version of software dependent on your OS version. If you install wrong bit software than software will not work properly into your computer system.
With following easy step you can check OS information of Windows 11, Windows 10, Windows 8, Windows 7 or Windows XP etc.
Step 1. Point your Cursor to the "This PC" (windows 11 & 10) or "My Computer" (Windows 8, 7, XP) Icon.
Step 2. Right click on icon and select properties as shown in image below: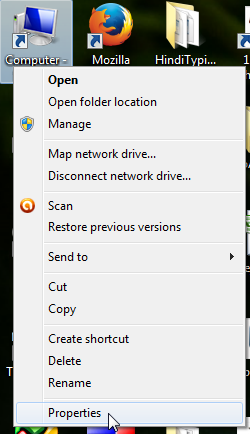 Step 3. Now you can see many important information about hardware and operating system of your computer system.
A. Device/Computer Name
B. Service pack Information
C. Your Computer Processor
D. Installed Memory - RAM
E. System Type - 32 or 64 Bit Operating System
F. Windows Edition