Alt Code for Special Hindi Character
Some Hindi Characters (Krutidev and Devlys font) are not available on the keyboard, they are typed by using special character code. The Code is combination of Alt key and some numeric value. These Hindi Typing Shortcut Keys are frequently used during Hindi typing. These Krutidev Hindi code are also known as "Hindi Shortcut Keys". Without learning Krutidev shortcut keys we can't complete the Hindi typing learning.
Download -> Hindi Typing code chart Kruti dev pdf for print.
Kruti Dev or DevLys Font and Remington/ typewriter Keyboard Hindi Alt Key Code.
Type Alt + given code to type that character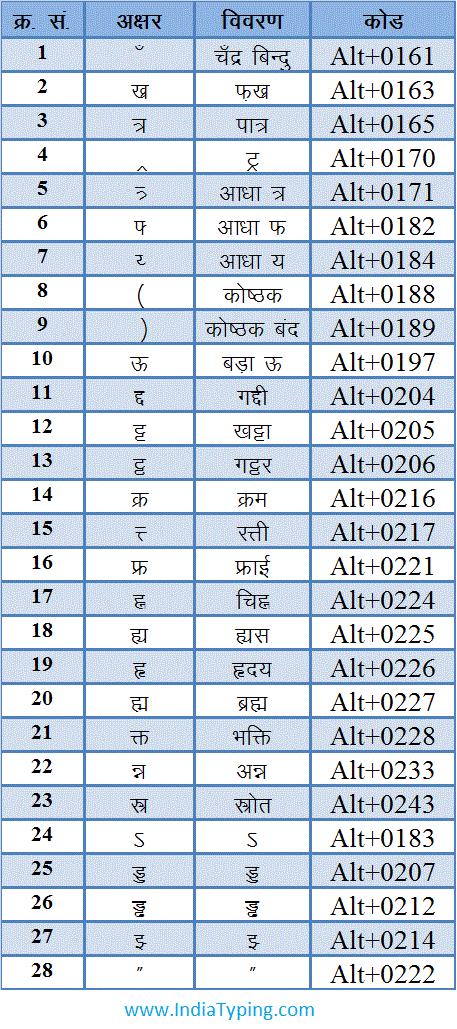 Type Alt + given code to type the counting in Hindi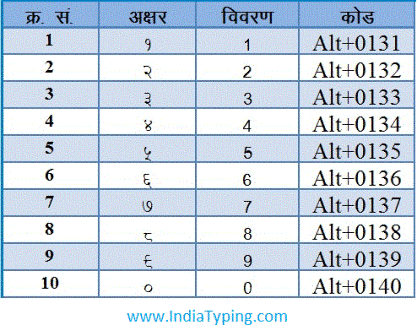 The Remington (typewriter) keyboard layout used for type in Krutidev or Devlys font. The Keyboard layout of Krutidev typing don't have some character on the layout. For type that Hindi letters some Key codes are used. These key code typed using Alt key facilitate corresponding letter to be typed. The above list shows all the Alt Key combinations for Krutidev Hindi typing.
These Alt key codes are must for Hindi typing without learning these Hindi typing codes Hindi typing practice didn't complete.
What is the Alt code for Hindi typing ?
Alt code are numeric code used with Alt key to make some characters that are not found on Standard Hindi keyboard layout. These Alt code have mapping with those Hindi character they are not on the layout. With the Help of Hindi Alt code you can type any character and letters and Hindi Numbers in your Hindi Typing.
How to use shortcut keys for Hindi typing in Krutidev font ?
To make desired Hindi character just press & hold "Alt" key on keyboard and press numeric code. You will see desired character typed on the screen. It's better you should remember these Alt codes, so you can use them frequently.
Where do found shortcut Alt code for Krutidev ?
These Alt code are also get with MS-Word in your system. In MS-word you can get Alt code for any installed font. You can see step by step procedure for Hindi Alt Code in MS Word.
1. Open MS-Word and click on Insert tab as showing in below image.

2. In Insert tab you will find Symbol option on right most side, click on More symbols option there as showing in below image: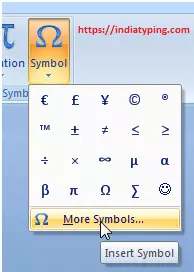 3. Now select Krutidev font from Drop-Down list and You will see Hindi Characters are appearing as showing in below image: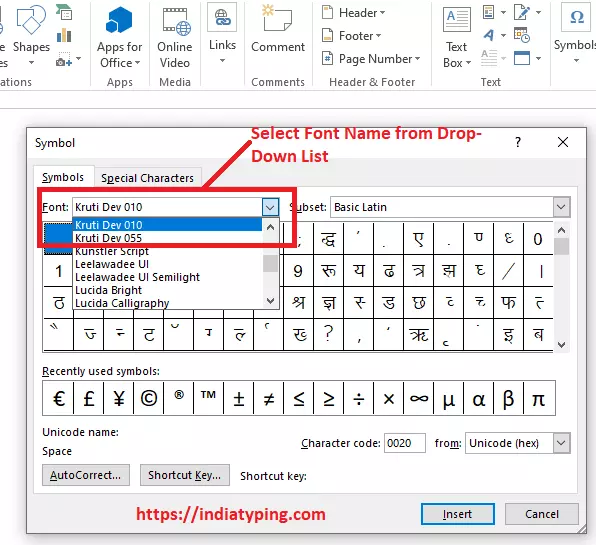 4. Now select your desired Character and you see Shortcut key is display as showing in below image :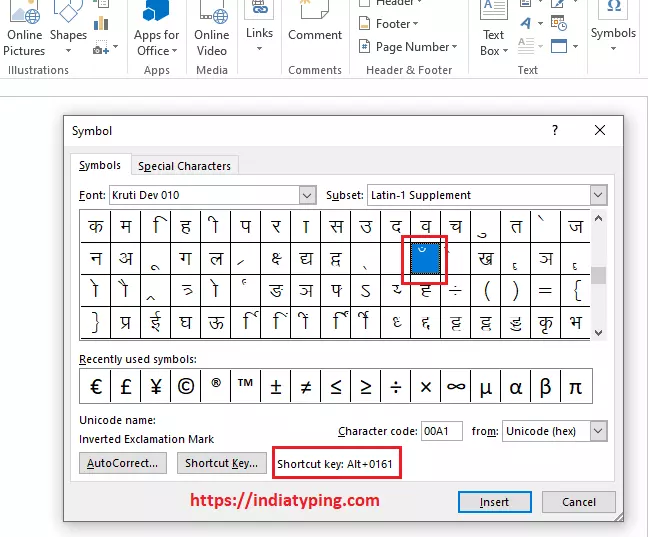 See Also:
1. Remington Gail/ CBI, Mangal Font Special Character Code and Shortcut keys
2. Inscript Hindi Typing Shortcut keys
3. Shortcut Keys English Typing