Typing Certification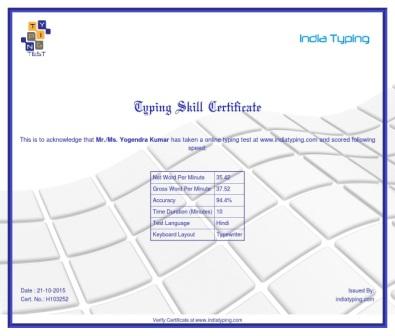 For getting Free online typing skill certificate you have to take Minimum 10 minute test and score minimum 25 NWPM with 80% or greater accuracy.
India Typing providing free certification of your typing skills in terms of Typing Speed (WPM) and Accuracy. We have used International and Indian Standard method to calculate typing speed. You can check formulas are used for calculation. It's very easy to Get Typing Certificate with India Typing. Just take an online typing test and get your free typing skill test certificate.
You could use this certificate in getting typing jobs and show it to your employer that you have achieve such speed in typing skill. Your employer can verify your typing score online. We advise to get a certificate you should take a test for 10 Minutes at least.
You can also show your score in your Resume or CV. Your typing certificate will show your typing speed as well as your accuracy and also confirm your testing language and keyboard layout used.
You can print your certificate any time from our server without any charge. You could take Hindi as well as English Typing Test Certificate. This certificate will leverage you with confidence to prove yourself in this competitive world. Just click on link below to take test and get certificate in your hand.
1. English Typing Certification Test
2. Hindi Typing Certification Test (Krutidev/ Devlys)
3. Hindi Typing Certification Test (Inscript)
4. Hindi Typing Certification Test (Remington Gail)
What is typing certificate ?
Typing certificate is a document issued in favor of a candidate who have qualified in typing skill test. The typing certificate issued with a unique Cert. No. for recognition of candidate. Here you can get free typing certificate by qualifying the minimum criteria.
What is the criteria for getting a typing certificate ?
The criteria for getting a certificate is typing speed of 25 WPM with 80% accuracy. You must take 10 minutes test inorder to get indiatyping certificate. Certificate is free and if you achieve better speed in another test you can get a new certificate.
How to verify certificate ?
Anyone can verify authenticity of the certificate from verify typing certificate link. Here you have to enter certificate no. an click on submit button you will get all details of candidate on the screen.
I have lost my typing certificate what to do now ?
You can reprint your typing certificate from print certificate link. But you should remember your certificate no. to reprint your certificate. If you forget certificate no. then you have to take test again to get a new certificate.