LDC Grade II Exam 2013 RPSC
Latest Update : 12-05-2017 - LDC Grade II exam Result is Declared by the RPSC.
RPSC the public service commission of rajasthan published advertisement for hiring 7571 lipik grade II in various government department of rajasthan. Candidate having age from 18 to 35 year can apply online for the entry level job in rajasthan. Recently the grade pay also increases by the rajasthan government for the LDC post, so it will become a nice carrier option for under graduate and graduate students. Along with pass in senior secondary exam they have to basic knowledge of computer and any certificate in computer field make them eligible for LDC II Grade exam 2013 in Rajasthan.
Eligible candidate can submit the online form till 30-09-2013. Fees and form can be submitted threw e Mitra.
Exam Date - 11-01-2014 (Saturday) Written Eam Will be conducted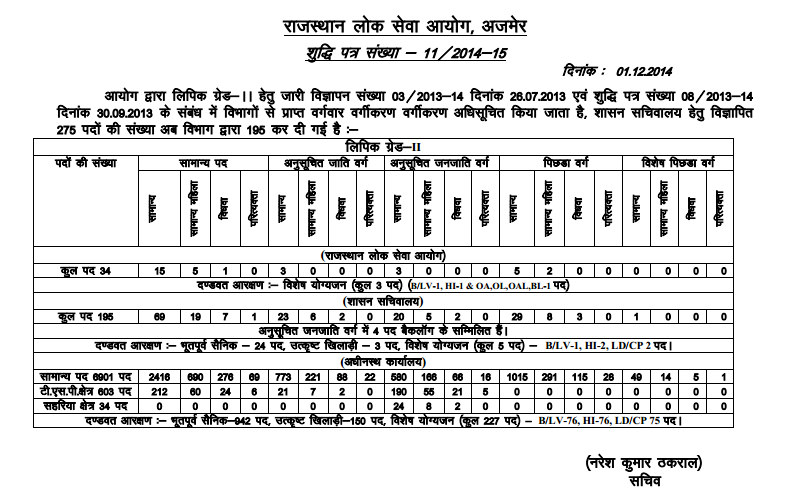 The written exam for LDC Grade II have 2 papers.
1- General Knowledge, Everyday Science and Mathematics
2- General Hindi and English
Both papers will 3 hours duration and carrying 100 marks
After the written exam the candidate have to pass Typing Speed Test and Typing Efficiency test too.
LDC II Grade Typing Test
The typing test will be taken in English as well as Hindi language. Totally the typing test will carried out 100 maximum marks. The final selection of candidate will depend upon the Total marks he gets in written exam and in Typing Test.
From last time we seem candidates passed the written exam easily but they get failed in Typing Exam. So it's very important for candidates to have good and accurate typing speed. Candidate can learn and practice on our website for typing in English and typing in Hindi.
For Official Vacancy notification and complete details of the examination see the official website - rpsc.rajasthan.gov.in

You can also download official notification of LDC Grade II from here